Open Escrow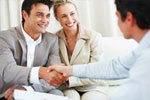 At Bayside Escrow, we cannot wait to show you the level of service we provide. We are proud of our dedicated, customer-based services and look forward to serving you with professional, knowledgeable and efficient escrow services. For your convenience, you may open escrow online by filling out the form below.
Choose from a Open Purchase Escrow Form or a Open a Refinance Escrow Form. Our Team of Escrow Officers will review the forms and an experienced Escrow Agent will put you with the Escrow Agent to suit your needs. You can rely on Bayside Escrow to anticipate your needs and make your escrow transactions easy and worry-free.
Our Staff is ready to answer any questions you have in order to Open your Escrow. Please select which Escrow you would like to open. If you are unsure, please call our office directly and we will guide you through the process. We look forward to servicing your Escrow needs.
---
---